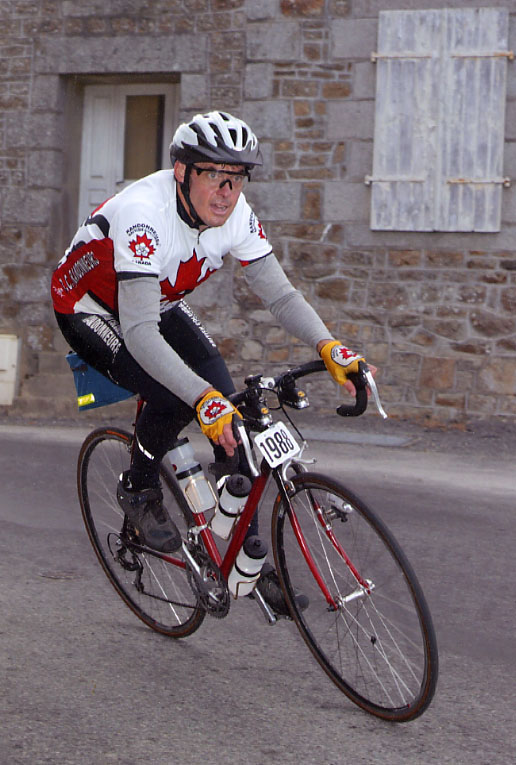 If you are interested in getting an early start to your PBP qualifying this April 2007 brevet series might interest you:
Come out to the Vancouver Island 'Eau de Hell' Week , starting April 7th, 2007.
** 200k Saturday, April 7th
** 300k Sunday, April 8th
** 400k Tuesday, April 10th
** 600k Thursday, April 12th
Total kilometres = 1,500
All rides start/finish in Chemainus, B.C. All start times are at 7:00 a.m. Ride all, some or one of the rides. For individual brevets beyond the 200, riders need to have ridden the shorter distances in the previous year. eg. to ride only a 400k, one must have ridden a 200 and 300 in the previous year.
Chemainus, famous for its murals and professional live theatre, (Murder on the Nile is playing during 'Eau de Hell' Week) has a Best Western almost in town; an economy motel up on Hwy 1 (about 4k away) and numerous B&Bs. What a wonderful spring vacation!
Susan Allen and Doug Latornell are organizing the 200 (Tour de Cowichan) --I am the overall organizer of the 'Eau de Hell' Week and responsible for the 300, 400 and 600. There will be a Hell Week pin for those riders that complete all 4 of the brevets during the week.
'Eau de Hell' -- perfume of spring flowers OR the lovely perfume wafting from sweaty randonneurs
-- spring rain showers
-- an endearing phrase spoken by tired randonneurs
Several folks have already expressed interest in this 'compact' Super
Randonneur series of brevets. For planning purposes it would be helpful to hear early from other folks who are interested.
.... Ken Bonner (BC Randonneurs)